Complex Geometry, Lightweighting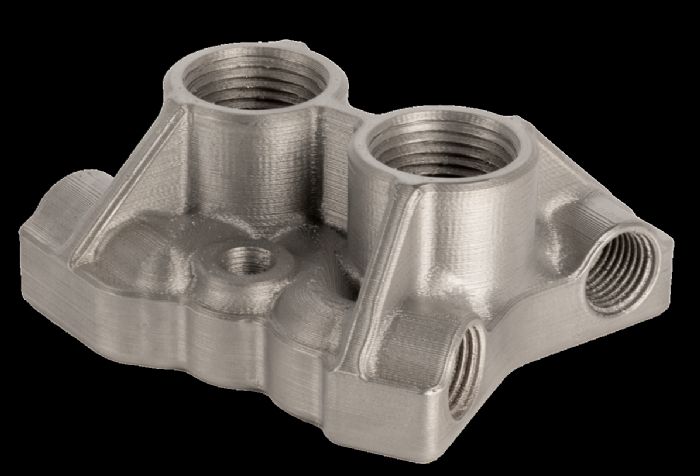 Using the Studio System, Egar engineers can produce EOA tooling and prototype dies with complex geometry, such as internal cooling channels, that cannot be manufactured via casting, machining, milling or other traditional methods. And, AM opens the door to lightweighting parts at Egar, such as transfer arms to optimize machine performance and reduce stress, and to also enable part consolidation to simplify assemblies.
AM also allows for the use of generative design tools, enabling engineers to access new design spaces and create parts with organically inspired geometry. Egar engineers can optimize parts for their application that also are lighter and less costly to manufacture. In addition, Egar engineers are eagerly exploring printing with different materials, including printing copper alloys for use in a resistance-welding application. And, late in 2020 Egar acquired a Desktop Metal Fiber printer, for printing with carbon fiber, which it employs for printing sensor mounts used in an arc-welding system. By printing the mounts from high-temperature thermoplastic (polyether ether ketone, or PEEK) filament, they will be able to withstand the challenging welding environment—hot slag and sparks—helping to reduce downtime caused by sensor damage.
"I'm very excited for the future of AM in both metal and plastic," says Colin Kools, director of AM at Egar Tool and Die. "There has been and continues to be great advancements in both areas."
Why Metal AM?
Before investing in the Desktop Metal Studio System, Egar had explored the use of plastic printers to create mounts to hold steel EOA tooling inserts, and for mounting stamping-die sensors. While those efforts demonstrated that 3D printing could meet the company's needs, they still faced challenges—particularly related to durability and cost—leading Egar engineers to search for a system capable of printing metal parts.
One reason they settled on the Studio System: its high-volume sintering furnace that, according to Desktop Metal officials, features a unique vacuum-chamber design and the ability to use house gas. The larger furnace not only allows for printing larger parts, but also enables Egar to produce more parts per run, resulting in lower per-part printing costs.
The Studio System employs a two-part process that starts when a user loads a CAD file into the system's proprietary Fabricate software. The printer builds the part in layers by extruding a bound metal rod. Finally, the printed parts are placed in a furnace for sintering. The furnace first heats the parts to remove the binder material, then increases the temperature to near-melting to sinter the parts—all in an office-friendly package.
Significant Savings
To illustrate the savings possible when building parts using the Studio System, Kools and his team conducted several studies comparing the costs for building parts using AM to those using traditional processes. In one case, it was able to print transfer-arm tooling at a cost of $113/set, compared to $216/set using a traditional CNC process. And, the printed tooling set weighs just 0.81 kg, compared to 1.28 kg for the machined tool set. As the arm must perform over thousands of cycles, this weight reduction is beneficial in reducing wear and tear on the servos, motors and other components driving the press, while also allowing the press to cycle more quickly.
In another application, building an air manifold for use on EOA tooling actuators, the cost savings is even more significant. Kools estimates that building the manifold on the Studio System cost just $77, compared to around $300 using a conventional machining process. In addition, using AM's ability to print complex internal channels, Egar was able to consolidate a complex multiple-part pneumatic manifold system into a single component. And, the printed manifold is smaller than the CNC-machined part, helping to avoid interference with other machinery in service.
Printing Die Sections
Finally, Egar has printed die sections from H13 tool steel and 4140 chromoly steel. The H13 section was fully heat treated and the 4140 part flame hardened to increase their hardness, enabling them to stand up to the stamping process. 3D printing allows Egar engineers, says Kools, to quickly create die sections for its production lines, and to retool and refit in a matter of days as opposed to weeks or more. MF
Article provided by Desktop Metal, Burlington, MA; www.desktopmetal.com.
See also: Desktop Metal, Inc.
Technologies: Additive Manufacturing