Reduced Reverse Tonnage in Production of Near-Fine Parts

The increased use of advanced-high-strength steel (AHSS) has led to an increase in cases of reverse tonnage, or snapthrough, according to Shrini Patil, product manager for Aida-America. The condition results from the release of pressing force when part material fractures, with energy and vibration transferring through the tooling and press, and possibly resulting in significant damage. Presses not built to deal with the stresses and strains of forming AHSS are candidates for succumbing to reverse tonnage. The variable-stroke-speeds benefit of servo presses provides a solution to reverse-tonnage challenges.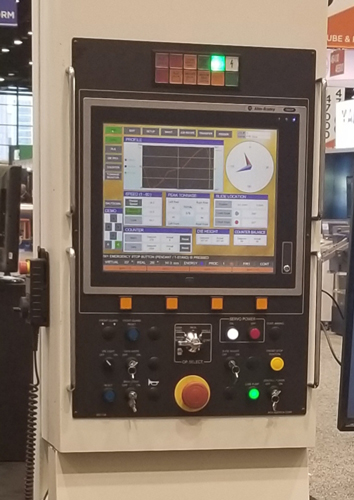 As an example, Patil describes a blanking die placed in a standard crank-motion mechanical press. Measurement reveals 114 tons of forward press force and reverse tonnage of 9 tons. The same die then is placed in a servomechanical press, with the ram descending rapidly prior to slow blanking. The bottom-stroke speed reduction lowers the noise level, from 101 to 75 dB, but also reduces forward force to 104 tons, and reverse tonnage to 2.6 tons, well within the recommended reverse-tonnage limit of 20 percent.
As part of its servo-technology-intensive exhibit, Aida-America presented this demonstration of a 70-percent-plus reverse-tonnage reduction at FABTECH, via a model DSF-N2-3000, 300-ton, two-point straightside servo press, as part of a full progressive die production line blanking near-fine parts. The demo showed how servo near-fine blanking can produce a >90-percent burnished surface with a straight edge, exceeding the typical 70 to 80-percent burnished-edge requirement of many applications, according to Aida-America officials.

The combination of DSF-series accuracy and programmability reportedly transitions production of near-fine parts from a high-cost, labor-intensive machining process to a more efficient, economical stamping process, leading to reduced per-piece costs.

Besides the Aida-America servomechanical press, the demonstration line also featured components from Dallas Industries and Pax Products, and material from Heidtman Steel.

Also on display, the company's new DSF-C1-800A 80-ton, direct-drive, gap-frame servo press, showcasing Aida's Allen-Bradley control. Standard control features include a swing-arm-mounted 12-in. color touchscreen, Allen-Bradley servo motion controller on a CompactLogix platform, 200-job recipe storage, job recipe download/upload capability to a flash drive, an integrated tonnage monitor, and a step-feed slide-motion control for improved setup. The control also includes eight PLS cams, eight-input die protection with PNP/NPN signals, display of actual and virtual crank angles, and ergonomically designed optical run buttons to provide a high safety level while helping to reduce operator fatigue.

The DSF-C1-A series offers higher pendulum speeds than Aida's previous-generation gap-frame servo presses, a capacitor-based Energy Conservation and Optimization (ECO) system that reduces peak energy draw, and an electronic overload-protection system that monitors applied torque through the complete stroke to prevent overloading.

Additionally, the company exhibited its Allen-Bradley-based control (pictured) for servo-driven presses in capacities from 315 to 3500 tons, demonstrating several servo press stroke-motion profiles in real time on a virtual press. Control features include direct access to a pdf of the press manual and display of actual and virtual crank angles.


Press-Line Data Assists Scheduling, Plus New Press Series, Feed Line

Predictive failure analysis, or PFA, is how Jim Landowski terms it. Landowski, vice president of Komatsu America Industries LLC, describes PFA as growing out of a recent relationship with a major automotive OEM, where the partners are exploring the use of sensors on Komatsu's servomechanical presses to measure conditions such as bearing temperature, "not only how hot it gets, but how quickly the temperature has risen and how long it takes to decrease," Landowski says. From such information, failure can be predicted and maintenance planned.

"No longer are OEMs or Tier Ones happy with information such as 'change the oil once a year,'" he explains. "An oil change may be needed sooner, depending on the application. Users need data to make determinations, and that is what PFA can do. OEMs have pushed us to do that. With this information, stampers can plan for downtime and not interrupt production schedules."

PFA is on its way, Landowski says. Also new: Komatsu's own compact coil feed lines. As the press serves as only one component of a line, Komatsu has noted the need for other components, such as coil handling equipment, to offer PFA capabilities that help the entire line function to its full potential.
"Our coil feed integrates directly with our press control," Landowski explains. "As press speed increases or decreases, the coil feed anticipates the location of the next feed pass, feeding material ahead of time as it senses the change in speed."

Komatsu also used FABTECH 2019 to tout its new H2FM servomechanical press series, in capacities of 400, 630 and 800 tons. The series features a high-rigidity frame with reported slide and bed deflection at 0.001 in./ft. left to right and front to back to enable high-accuracy forming. A new high-torque, liquid-cooled servo motor offers minimal reduction of working energy at maximum pendulum speed for greater productivity, according to Landowski, who notes that a proven capacitor system (adopted from capacitors used in Komatsu's heavy-construction equipment) for electricity storage reduces energy usage. As a nod to PFA, a remote-monitoring system continually checks machine performance as well as interconnected peripherals. All data are stored and accessed through the internet.

By summer 2020, Komatsu plans to bring a 400-ton H2FM press to its Elk Grove, IL, showroom, paired with the new servo coil feed line―both under power to provide demos for customers.


Integrated Processing Boosts Productivity

In the earlier days of servo-driven presses, a decade or more back, their major selling point was flexibility, according to Jim Schulte, Arisa product manager at Nidec Press & Automation, who noted to MetalForming earlier this year that users could expect to combine a variety of applications in one servo-driven press. While certainly still true, stampers today are moving ahead, finding ways to further utilize the technology. An example: Servo transfer technology, with the emphasis on synchronization and integration of processors, provides for productivity improvement. Here, as many as eight motors control different axes via a single control.

In addition, according to Schulte, "drivetrain improvements such as liquid-cooled motors and planetary gearboxes allow for more-powerful motors in smaller packages, contributing to faster stops and quicker acceleration, enabling greater manipulation of parts profiles."

In step with this evolution in technology and in application optimization, Nidec Arisa has rolled out the Arisa GS2 servo-press series (pictured on next page), offering integrated automation such as described above in capacities from 3150 to 8000 kN.

Key to this series are precision kinematics that enable quicker system response and higher production rates than possible in previous series versions, according to Nidec Arisa officials. Features include eccentric wheels with double-helical gearing, allowing for smooth operation, increased power transmission and higher durability; and zero-clearance slide guiding that improves die setup and operation. Standard on this series, the Desch planetary gearbox reportedly reduces drive train inertia to provide quicker acceleration and faster stopping times. And, the Siemens energy-management system provides maximum energy efficiency and low power cost per part, according to company officials.

In addition to the Arisa servo-press offerings, Nidec Press & Automation previewed for FABTECH audiences a state-of-the-art means to explore internal machine components, via augmented reality. Booth visitors were able to hold up a tablet computer to face a press, and the tablet displayed drives, motors and more, enabling a detailed look at a press' inner workings complete with specs and other component details. Expect to hear more on this technology soon.
EV Part Suppliers Sidling Up to Servos

Noting that FABTECH 2019 attendees seem to be more versed on servo press capabilities than at shows past, Stephan Robertson, general manager and vice president of sales and operations for Simpac America, found the greatest interest in servo presses from the automotive sector.

"Due mainly to cost, we've seen interest in standard mechanical presses from those in the appliance and other industries that work with more standard materials and in part volumes that don't require the productivity improvements offered by servomechanical presses," he says. "But, in the automotive world with its higher-strength steels, aluminum alloys and coated materials, and especially in the electrical vehicle (EV) market, servomechanical presses draw a lot of interest.

"Quoting activity in general has increased for servo presses," Robertson continues. "Many older presses―15 to 20 years and older―exhibit cracked crowns and bed issues. They just can't handle the newer, stronger materials."

The quoting uptick applies to Simpac America's compact MX-series servomechanical presses, in capacities from 3000 to 10,000 kN, and SX-series presses, ranging from 8000 to 30,000 kN. Machines from both series can be operated as single presses in progressive or transfer mode, as double-press systems for more flexibility, or in fully automated press lines, company officials report. In conjunction with automation partners, Simpac can provide turnkey forming systems.

Features on these presses include solid, low-stress annealed press bodies, FEM-calculated and optimized via individual, hot-spot analyses in areas subject to higher loads; and modified drive concepts to increase efficiency. Upgraded motors, holding brakes, lubrication and power electronics reportedly provide maximum dynamics and long service life.

"These presses have been designed for higher-end applications, such as transmission housings and parts for EVs that often must be made from higher-strength materials," Robertson reports.

Actionable Machine-Monitoring Data, Rapid Setup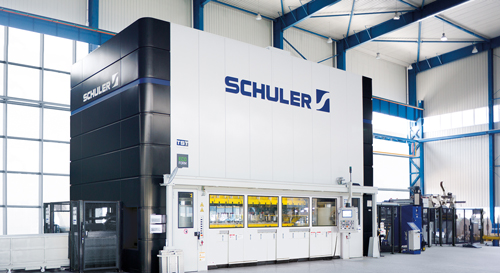 As its most recent contribution to Industry 4.0, Schuler touts the Smart Press Shop. In the intelligent and fully networked press shop of the future, company officials postulate, stampers accurately can predict potential downtime with the aid of sophisticated sensors and actuators, along with the data they collect, to avert this downtime well in advance. Today, with Smart Press Shop, users can ensure productivity and increase part quality while reducing energy requirements. The Machine Monitoring System, the heart of the Smart Press Shop, features six different function areas that collect, analyze, store and evaluate production conditions. Users operate and control the system, compatible with new and existing machinery, including Schuler's servo presses, directly on their plant equipment, via their servers, over their networks, and in the future also from the cloud.

Machine components are monitored for changes, wear and damage in order to optimize the maintenance process. For this purpose, regular stamping-system test runs gather vibration data and measure torque progressions and energy consumption, with the data then stored and compared. In addition, to assess wear, the Schuler solution considers the load as well as the actual manufacturing process through process monitoring.

Since 2016, Schuler servo press lines have been equipped with sensors in the slide and bed as standard. The sensors measure the acceleration per stroke, enabling users to monitor the condition of the systems and the forming processes in detail. Sensors also can measure the vibration in the engine bearings, which in turn indicates possible wear at particularly critical points such as gearwheels and axles. In addition, demand for electricity, water and compressed air can individually be identified, from the blank feed and individual presses to bed cushions and blank destacking.

And, the company's Smart Assist software for servo-driven presses helps accelerate production startup. The software guides a user through the process step-by-step with the aid of videos and graphics, optimizes the movement curves of the slide and transfer fully automatically, and transfers the data to the overall system. Compared to setting up the system manually, which may take as long as 8 hours for an expert, Smart Assist reportedly reduces the process to just 30 minutes.

Servo press technology from Schuler includes TwinServo systems, with two separate and electronically synchronized torque motors located in the press bed. The result: lower machine heights and reduction in springback by 30 percent, as well as improved sound insulation and energy efficiency. Arrangement of the two decentralized drives enable sufficient space for drawing cushions and scrap shafts.
Optimize for Servo-Driven Presses to Get the Most Bang for the Buck

While larger parts makers, primarily tied to automotive, were the early adopters of servo press technology, chiefly transfers and tandem lines in press capacities exceeding 1000 tons, smaller shops recently have expressed interest in smaller machines with capacities of 600 tons or less.

That's according to Lee Ellard, national sales manager at Stamtec, Inc., who notes to MetalForming that cost no longer prevents a huge barrier to these smaller operations. The gap has closed, he says, with servo models now costing about 1.5 times the cost of their mechanical brethren, as compared to double the cost only five years ago.

To get the most bang for the buck, and to draw the most from servomechanical presses' formidable capabilities, metal formers would do well to optimize tooling, in-die processes and automation for this technology, according to Ellard.

To help do that, Stamtec organized its Servo Press Tooling Seminar, a September 2019 event held at the company's new Servo Press Technology Center and Die Try-Out Facility in Manchester, TN. Targeting those wondering how servo press technology can specifically benefit their own press productivity, improve parts quality and boost profitability, the seminar provided onsite consultation with tool and die shops, and demonstrated several servomechanical presses under power. These included a 660-ton straightside press as well as C-frame presses ranging from 121 to 220 tons.

"The bottleneck for fully realizing servo press potential lies squarely with the parts manufacturers and tool builders learning to design and build tools for servo presses," Ellard told MetalForming while promoting the seminar and urging stampers to fully benefit from servomechanical press technology. "We are seeing more creative die designs because the technology affords virtually unlimited stroke and motion profiles. The evolution of dies will continue, as will the level of sophistication when it comes to integrating controls, processes and automation."

Controls specifically designed for Stamtec's servomechanical presses feature user-friendly interfaces, and given the stroke and slide-movement flexibility, enable users to perform a variety of jobs—drawing, restrike, warm forming, etc.—in one press. Stamtec can custom-supply unique profiles, while customized motion curves allow as many as 20 various segments in a cycle curve, defined by segment position, speed and pause-duration parameters.

The controls can incorporate automation and feed applications, and enable automatic slide adjustment and die-height auto-correction. Other features include 100-job storage, pulse generator wheel for die tryout, ethernet link and incorporation of task-assignment software.

Stamtec showcased its servomechanical press and control offerings at FABTECH via a variety of machines configured to run actual production of small deep-drawn parts. Machines displayed included two 110-ton servo presses along with other mechanical link-motion and traditional mechanical presses. The company also displayed a feed line consisting of a combination uncoiler/straightener paired with a servo feeder.

New Name Equals New Machines, Plus Monitoring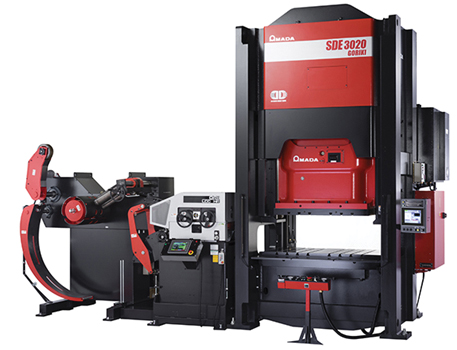 Amada Orii, established in April 2019, develops, manufactures, sells and services stamping presses, coil feeders, transfer systems and spring machines. With U.S. operations based in Erlanger, KY, the company, formerly Orii and Mec, used FABTECH 2019 to highlight SDE-Goriki direct-drive servomechanical presses, in capacities from 80 to 400 mtons.

The SDE-Goriki series boasts a solid-column frame and full-length center-gib structure that prevents stretching of the frame during pressurization, and increased vertical rigidity, thus improving eccentric-load resistance and providing for high precision and part quality, according to company officials. And, the enlarged slide area enables use of multi-step dies. Users can choose from diverse motion patterns, ensuring optimal motion for various stamping applications.

Apines operation-management software available through Amada Orii connects equipment, ranging from general machinery to servo presses, to a digital network. Information such as operation and production history, time monitoring, alarm information and maintenance details can be viewed easily, enabling real-time monitoring by press-shop personnel. The software is compatible with tablets and smartphones.


New Service Operation, New Hybrid Servo Line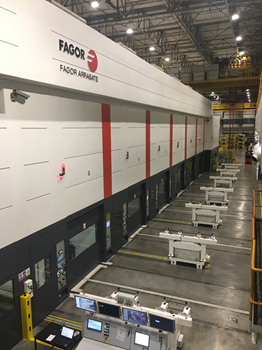 At FABTECH, Fagor Arrasate officials announced that the company will build a greenfield service-oriented plant in the Chicago, IL, metro area, to become operational by the end of 2020. The project, to include bridge crane as well as offices, signifies a commitment to the U.S. market and complements the current Fagor Arrasate commercial and service structure in the country, coordinated from the company's U.S. headquarters in Willowbrook, IL.

In two booths at FABTECH, the company provided examples of servotransfer and transfer presses, high-speed press lines, slitting lines and cut-to-length lines for aluminum that utilize laser-flat technology. Fagor Arrasate also presented some new developments in stamping and blanking lines equipped with advanced automation systems.
A major development highlighted by the company at FABTECH: its WaveLines high-speed press lines. Anchored by a servomechanical press and backed by mechanical presses, these lines seek to provide high productivity for the automotive industry. The WaveLine setup speeds the process of handling and moving each part from one press to another by using high-speed robots with new generation synchronous control, which reportedly increases the line's productivity by as much as 40 percent.

In 2018, Fagor Arrasate installed its first Servo Hybrid WaveLine project for Spanish automaker Seat, in Barcelona, Spain. The first such line in Europe reaches speeds to 15 strokes/min., works in continuous mode and provides a digital simulator in a Siemens PLS platform. In 2010, the company took its very first WaveLine order, from VW South Africa.

The Seat line features a servomechanical lead-off press followed by five conventional mechanical presses (all with 1300-mm stroke lengths) that obtain similar results to those of a full servo line, but with a better return on the investment, according to Fagor Arrasate officials. Line pressing force totals 81,000 kN, shared between the servo press with 21,000 kN of force and the other five with 12,000 kN each. Because the lead-off press is servo-driven, slide speed can be varied at any point in its travel, enabling quicker die openings and closings that allow Güdel roboSpeed part-transfer robots to move parts more quickly along the line. Link-drive-type kinematics allow the presses and automation to work together in a continuous cycle.

Press-bed dimensions of 4500 by 2400 mm for the lead-off press and 4500 by 2200 mm for the others, combined with the robust part-transfer automation, enable production of large parts. MF


Industry-Related Terms:
Surface
,
Torque
,
Transfer
,
Model
,
Point
,
Ram
,
Run
,
Scrap
,
Stroke
,
Blank
,
Blanking
,
Center
,
Checks
,
Color
,
Die
,
Draw
,
Drawing
,
Edge
,
Forming
,
Lines
,
Annealed
,
Bed
,
Alloys
View Glossary of Metalforming Terms
See also: Stamtec, Inc., Nidec Press & Automation, Komatsu America Industries, LLC Press Technology Division, AMADA Press System America Inc, Schuler North America
Technologies: Coil and Sheet Handling, Sensing/Electronics/IOT, Stamping Presses