Laser Technology Enables Inhouse Product Control
A family-owned business now led by the Brands' son Eric and his wife Faye, Co-Line still produces Sure-Latch products inhouse, but otherwise functions as a job shop. It is fully committed to laser fabrication, as it plays an integral role in the company's quest to control its own destiny and manage all stages of the product life cycle, from prototype to production and distribution, and maintain flexibility in job-shop operations.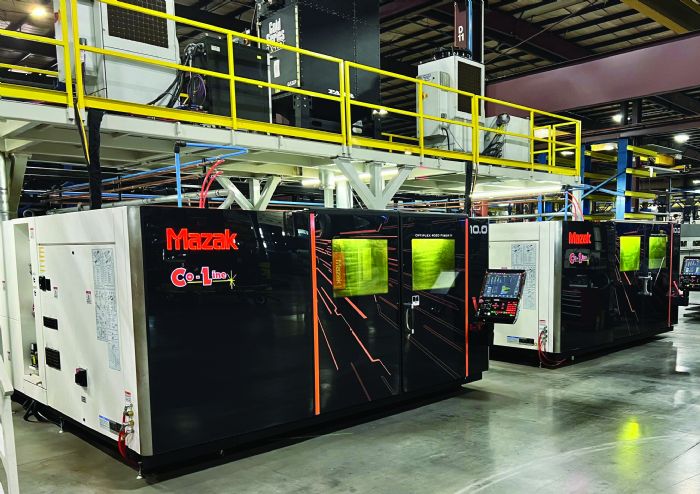 "Our customer base was looking for a supplier that could take a part from start to finish," says Eric Brand, Co-Line owner, reflecting on that quest. "To provide this, Co-Line needed to laser cut blanks, 3D trim prototypes and keep the process moving forward. Because we owned our own products, we understood the challenges our customers faced. We invested in technology that would meet our customers' demands."
Customers wanting a one-stop shop—beyond only cut parts and components—also rings true on the job-shop side, according to Brand. This has led Co-Line to invest increasingly in technology to cut, bend, weld, machine, powder coat and package. Today, the investment in tube, sheet and plate cutting in particular has yielded Co-Line a roster of 14 Mazak Optonics machines, including 4-, 7-, 8- and 10-kW laser cutters.
7-kW Fiber Machine Brings Speed
Brand cites the 7-kW OptiPlex Nexus Fiber S7 2D laser cutting machine as one of Co-Line's most impressive purchases—in 2018—from Mazak Optonics, and evaluates the machine as having a considerable impact on Co-Line's business.
"Compared with our CO2 laser cutting machine, the piece timing has been reduced by approximately one-sixth," Brand says of its performance on steel approaching 1 in. thick, and impressed with the beam-shaping and diameter-control technology introduced on the S7, along with its intuitive operation. "It's a tool that everyone should have, like a Swiss Army Knife."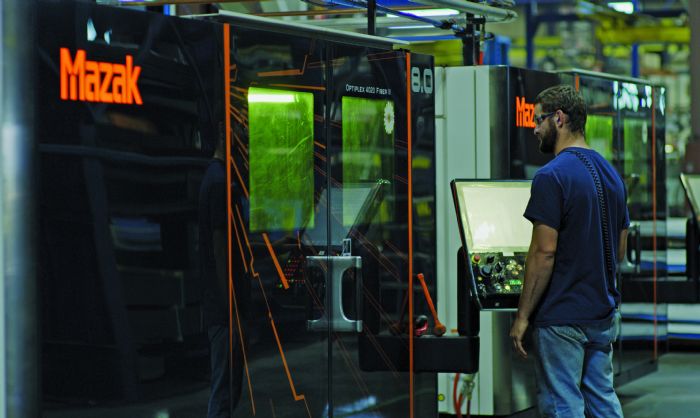 As to ease of use, Brand reports that he was able to cut parts on the S7 without training—only from what he knew from running prior Mazak machines. Machine dependability also rates high with Brand. As Co-Line measures beam-on time each day, the S7 machine has run consistently in the mid-90s percentile with beam-on auto cycle operations since a month after install, Brand reports.
Besides the S7's significant impact on Co-Line's productivity and capabilities, the two 10-kW OptiPlex 4020 Fiber III 2D laser cutting machines also operating on the manufacturer's shop floor deliver improved ability to cut thicker materials with nitrogen and improved processing times as compared to oxygen cutting. These attributes boost throughput, cut costs and allow greater business opportunities, according to Brand.
15-kW Machines On the Way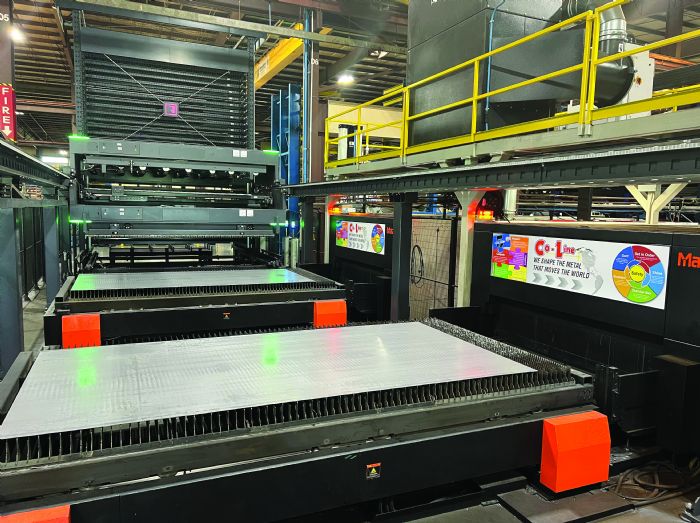 Co-Line soon will add to its laser cutting offerings, with three 15-kW OptiPlex 3015 NEO 2D machines slated for install. Introduced to North America this past spring at Mazak Optonics' North America Laser Technology Center in Illinois, the machine includes technology that allows increased control of beam shape and diameter. It automatically adjusts beam diameter to optimally cut various materials, and beam shape to control the concentration and power density of the laser beam. The result, according to Mazak Optonics officials, is improved cut speed and cut quality for a variety of materials. Other keys to machine performance include use of variable power distribution and the MCT3 cutting head, which together reportedly enable the 15-kW machine to deliver faster cutting speeds than machines offering greater power levels, and reduced cost of operation when employing high-pressure air cutting.
Automation a Must for Co-Line Lasers
It's a safe bet that the new machines will feature automated material loading, unloading and storage, as is the case with Co-Line's other 2D laser cutting machines—essential, according to Brand.
"With the investment of a laser cutting machine, you need to keep it running efficiently and effectively," he says. "We will not buy a laser without automation, and Mazak Optonics offers several different solutions." MF
Information for this article provided by Mazak Optonics, Elgin, IL; 847/252-4500, www.mazakoptonics.com.
See also: Mazak Optonics Corporation
Technologies: Cutting