"I was raised on a farm, have been involved with 4H, and climbed a grain bin for 50 yr.," Sukup says, noting that he still enjoys these things, but has developed a real passion for metal working. "By sixth grade I could weld and operate a torch. I've always enjoyed making things and seeing what I've made. That's what metal forming is all about—you take a piece of metal and transform it into something that's useful or something that you like to look at."
In 2020, in the midst of a two-decade run of growth, Steve Sukup ascended to his current position.
Product Lines Drive Growth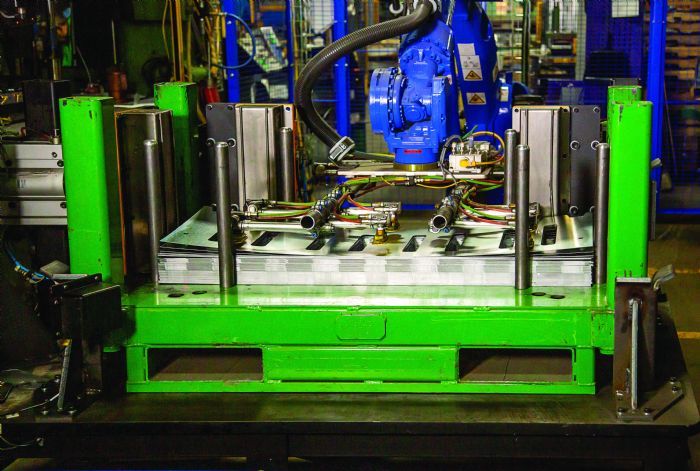 "Our company has grown 10 times larger in the last 20 years, with this growth driven by the realization of four new product lines that we developed, engineered and incorporated into our manufacturing processes," Steve Sukup says.
What spurred this growth: realizing that doing the same thing over and over is not ideal, aided by a quest to seek out new methods of manufacturing.
Steve remembers years ago attending equipment auctions with his dad and buying a used punching machine and a few milling machines—effectively introducing the business to NC technology.
"From that, we've grown to running CNC vertical and horizontal machining centers, and CNC lathes," he says. "We use lathes to make all the shafts, from 1- to 6-in. dia., for our bucket elevators. And, we now have 12 laser cutting machines onsite as well as equipment for coil processing."
Also, the company's inhouse tool and die department, with a staff of eight, handles 90 percent of Sukup Manufacturing's tool build and repair needs. And, the company routes its finished products via its own distribution operations and truck fleet.
Sukup Manufacturing began its relationship with Yaskawa Motoman through booth visits at FABTECH and other trade shows more than two decades ago, and today boasts 20 of the supplier's robotic welding systems, augmenting the company's capable and experienced welding personnel, according to Sukup.
In the spring of 2021, needing high-quantity production of an inhouse patented sheet metal flooring support, Sukup Manufacturing again reached out to Yaskawa Motoman to help with a manufacturing solution.
Robot Slashes Cycle Time
The result: A Yaskawa Model GP180 robot for automated press tending (the company also boasts metal stamping proficiency), replacing manual blank and part loading and unloading. Specifically, the robot destacks 20-guage steel blanks, using an embedded thickness gauge to confirm single-piece pickup, and places a blank in a 300-ton mechanical press housing a forming die. Following the press stroke, the robot removes the workpiece, now a tube section, and places it in a hydraulic press to produce a 12-in. bend. The 13.25-in.-long finished part is manually unloaded and pallet-stacked while the robot begins the cycle anew with blank destacking.
"This automates what had been three manual operations," Sukup says, noting again that such automation frees personnel for other duties. "Cycle time saw a 30-percent improvement, but the real payback was going from three operators to one, allowing us to use the other two operators in other departments."
The six-axis GP180 robot handles payloads to 180 kg, and offers a horizontal reach surpassing 2700 mm with a vertical reach of nearly 3400 mm. A streamlined robot upper arm eases access to parts in confined spaces, according to Yaskawa Motoman, while a wide wrist-motion range reduces interference with fixtures—this reduced interference design enables placement of the GP180 in close proximity of work zones, meaning less floorspace required in cell operations.
Dual-part specialty handling was designed through coordination with Motoman, with end-of-arm tooling developed to first handle blank placement, then rotate to place the formed piece for the final forming process.
This robotic press-tending application has worked so well that Sukup Manufacturing is duplicating the setup at another company location. And, Sukup reports bringing Yaskawa Motoman back in to tap its expertise to assess further automation opportunities to gain uptime on the 300-ton press.
"That's the fun part," he offers. "We know that the system works great, but how can we do it better and faster? We have good people inhouse and we can design and build a lot of things, but Yaskawa Motoman really closed the loop on this particular application to make it a production-worthy system." MF
Industry-Related Terms:
Blank
,
Case
,
CNC
,
Die
,
Forming
,
Gauge
,
Hydraulic Press
,
LASER
,
Lines
,
Model
,
NC
,
Run
,
Stroke
,
Thickness
View Glossary of Metalforming Terms
See also: Yaskawa America, Inc.
Technologies: Pressroom Automation