Schuler Debuts New Aluminum Hot-Stamping Process—No Furnace Required
September 20, 2023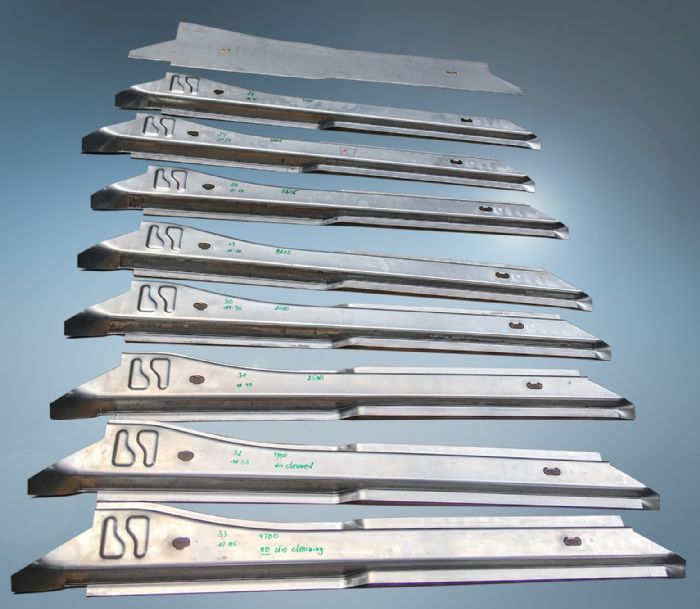 Schuler has developed a new process for hot stamping of aluminum sheet in a hydraulic press, engineered to quickly heat the workpiece material using contact heating and then forming the part in a water-cooled die. All process steps occur in the die, avoiding the need for a separate furnace.
"This process not only minimizes the space requirements for the system, but also significantly reduces investment and operating costs," explains Christian Palm, responsible for the Schuler hydraulic presses division. "The technology enables production of light and high-strength parts with a significantly higher degree of forming compared to cold forming, and offers a much greater scope for design." Highly complex geometries and a tensile strength of 300 to 400 N/mm2 reportedly can be achieved.
During the process, heating plates integrated into the first forming stage heat the aluminum sheet (6000 or 7000 series) to 300-450 C in a matter of seconds. In the second stage, forming takes places in a water-cooled die while the next blank simultaneously begins to heat up. In stages three and four, the part, still at about 60 C, can be cut.
Schuler has achieved 10-sec. cycle times using the process on a 1200-metric-ton hydraulic press operating in conjunction with a highly dynamic three-axis transfer system. And, in contrast to previous processes for hot stamping aluminum sheet, the components can be further processed immediately without the need to wait several hours for heat treatment to harden them.
See also: Schuler North America
Technologies: Materials, Stamping Presses