Honoring Metalforming Excellence
December 1, 2012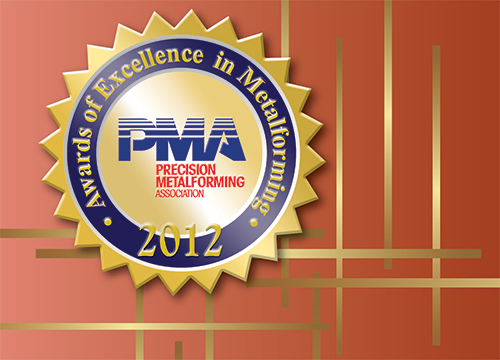 2012 Award Winners
Higgins-Caditz Design Award
Honeywell, Phoenix, AZ
Ulbrich Award for Competitive Excellence in Product Development
Pridgeon & Clay, Inc., Grand Rapids, MI
Waukesha Metal Products Excellence in Quality Award
Pridgeon & Clay, Inc., Grand Rapids, MI
Link Systems Process Control Award
Ramcel Engineering, Northbrook, IL
Pitcher Insurance Agency Safety Award
Unirac, Inc., Albuquerque, NM
A.R. Hedberg Training & Education Award
The Diemasters, Elk Grove Village, IL
Zierick Manufacturing Corporation Productivity Award
Eclipse Manufacturing Co., Sheboygan, WI
Clips & Clamps Industries Educational Institution Award
Orleans/Niagara Occupational & Technical Education Center,
Medina, NY
Excellence in Design
Honeywell Aerospace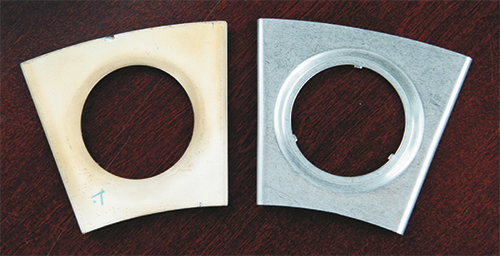 Honeywell Aerospace, Phoenix, AZ, received the 2012 Higgins-Caditz Design Award, for work related to its HTF700-series engine. To manufacture the combustor assembly for its 7000-lb.-thrust propulsion engines, Honeywell fabricates 16 tiled heat shields. Previously, these heat shields were machined from a cast material, weighed 3.8 oz and cost $910 per combustor. Honeywell Aerospace engineers Thomas Johnson and Ronald Pardington redesigned the heat shield as a stamping, reducing its weight and cost.
Working closely with Cygnet Metal Stamping & Fabricating Inc., Glendale, CA, the engineers developed the new stamped part from 0.040-in.-thick Haynes sheet. As a result, part weight was reduced by more than half, and its cost by more 85 percent compared to the machined heat shield.
The Design Award, created by the Worcester Pressed Steel Co., Worcester, MA, and sponsored by The Quarterly Club, recognizes a manufacturing company for outstanding achievement in developing an innovative product design. Honeywell is donating its $1500 cash prize to the Challenger Space Center Arizona, a local nonprofit organization providing vital science, technology, engineering, and math (STEM) programs to students primarily in grades K-8.
Excellence in Process Control
Ramcel Engineering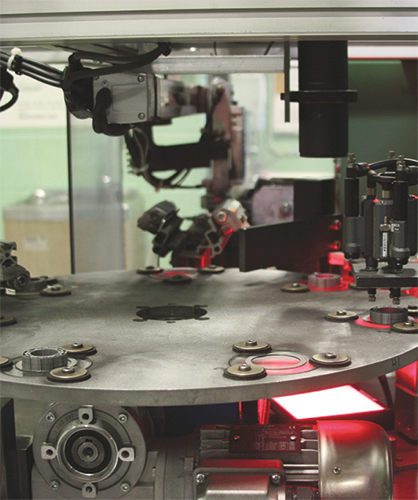 Ramcel Engineering Company, Northbrook, IL, received the 2012 Link Systems Process Control Award, for developing an automated high-speed measurement cell used to inspect parts coming off of a progressive lamination die producing 21-piece laminated stacks. The part, used in an automotive electronic power-steering application, requires 100-percent inspection of height, flatness, size and location of ID/OD, and size and location of magnetic window slots.
The RamcelVision automated inspection cell comprises a turntable that progresses the product to each station, while a PLC tracks each part in the cell. At each turntable location, a clear glass insert allows part illumination from underneath using a specially designed red lamp. At one station a camera grabs a still image of the 10-mm-tall part; resolution is 4910 by 3280. At another station, three precision contact probes take measurements. Then a sensor detects the difference from the highest and lowest values and determines if the part is in tolerance for flatness. A robot moves acceptable parts onto a packaging conveyor, while rejected parts drop down into a crusher, guaranteeing that rejected parts never mix with good parts.
The Ramcel vision system performs more than 80 individual measurements per cycle. The application communicates with a PLC and data server, feeding collected measurements to an Excel spreadsheet to provide Ramcel and its customer 100-percent traceability. While manual part inspection of parts using pin gauges, calipers and micrometers would take 1 to 2 min., the automated cell has trimmed inspection time to 4 sec./part.
The Process Control Award, sponsored by Link Systems, Nashville, TN, promotes the application of electronic-analog closed-loop process controls in the metalforming process by recognizing innovative electronic solutions implemented by a North American manufacturing company, which have resulted in significant quality, cost-reduction and/or productivity improvements.