Dedicated to Stamping Technology, Trane Banks on Pressroom Automation
June 1, 2008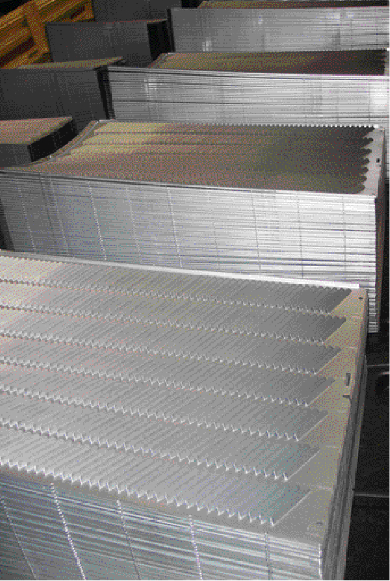 To support daily assembly of as many as 4000 residential air-conditioner
condensers, the plant's four louvered-panel stamping lines—one of which just went online in April of this year—must produce 16,000 panels per day. Panels are of 0.029-in.-thick galvanized mild steel from coil stock 27 to 37 in. wide.
Manufacturers serving the heating-ventilating and air-conditioning (HVAC) industry—OEMs and suppliers alike—consume tremendous amounts of sheetmetal, and so it follows that these companies often lead the in developing and implementing state-of-the-art sheetmetal forming and fabricating technology. Throughout the industry, manufacturers say that sheetmetal forming is a core process that triggers heavy investments in technology year after year to keep up with demand for new models of air conditioners, heat pumps, furnaces and other HVAC equipment.
To track this trend first-hand, we visited the Tyler, TX, plant of Trane, which manufactures residential central air conditioners and heat pumps. There, we interviewed two engineers in the firm's advanced manufacturing engineering (AME) group, Randy Peterson and Jay Blalock, and also spied a newly commissioned robot-automated tandem press line. Blalock and Peterson are two of 12 AME-group engineers that take on manufacturing-engineering projects company-wide, some 15 percent focusing on sheetmetal forming.
"We're performing more sheetmetal forming and fabricating then ever before," says Blalock, noting that staffing of its sheetmetal operations has dropped by 70 percent in the last several years, "although we're doing more sheetmetal work, with less labor, thanks to strategic investments in automation—coil-feed lines and transfer dies, rather than hand-fed stamping dies, for example."
Flexibility More than Just a Buzzword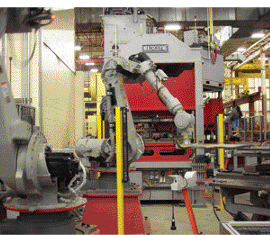 This new louvered-panel line began production in April, and features a 400-ton Minster mechanical blanking and louvering press, three Macrodyne secondary hydraulic presses, and four Motoman material-handling robots. The cell turns out completed, stacked panels at a cycle time of 8 sec. or less.
Several metalforming lines at the plant support an array of assembly lines that work from an electronic kanban system. Each day a master scheduler produces daily batch orders for the following day's output, and the manufacturing plant, including the pressroom, runs just-in-time to support the assembly schedule.
"We produce multiple models of multiple product lines each and every day," says Blalock. Batch size can vary from two to 30 assemblies, or more.
While supporting production of so many model variations and sizes—300 or more model variations, says Blalock —requires a truly custom and flexible fabrication and assembly plan, one area of the plant serves as a real backbone to production, and also as a possible bottleneck. That's the set of stamping lines turning out louvered panels that construct the outer case for each and every unit the plant assembles. To produce some 4000 air-conditioner condensers a day, the plant's four louvered-panel stamping lines—one of which just went online in April of this year —must produce 16,000 panels per day.