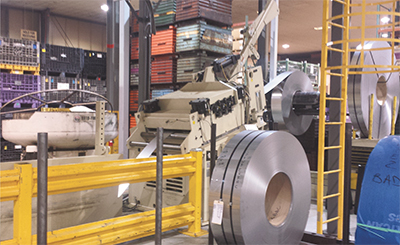 Coil-handling equipment feeds the new servo-driven press at Bayloff, with finished parts routing to an integrated parts washer if required.
A large operator interface incorporates many of Minster's Production Management Control (PMC) programming, including complete integration with the coil line. Especially appreciated by lead press operator Brandon Cadreau, who was chosen for this position via his diesetting experience and expertise, is a hand-wheel setup mode, allowing for precise positioning of the slide during job setup and die tryout. Cadreau told MetalForming that the handwheel allows for fine-tuning, providing for quicker and easier setups.
Initially, Bayloff strictly used progressive dies in the press. But with a Wayne Trail through-the-window transfer system, integrated as the press was installed, the press has now begun doing transfer work.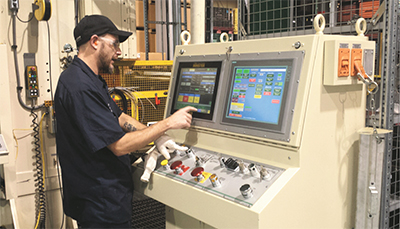 Common control platforms between the press, coil line and transfer system enable simplified press-line operation, with a hand-wheel setup mode allowing for precise positioning of the slide during job setup and die tryout.

"Incorporating a transfer system into a servo press is a major challenge," says Chris. "Coordinating the press' slide position with the position of the transfer entails different methods than with a traditional mechanical press."

Assisting in integrating the transfer system with the press are common control platforms.


"This transfer is not a bolt-on component, but was designed to integrate with the press," explains Brian Bayer, Bayloff co-owner and also Rich's son. "Both the press and the transfer system use a Siemens control platforms, allowing for increased integration and flexibility."

Big Boost for Deep Drawing Stainless Steel

To make room for the new line, Bayloff transferred welding equipment to its other local facility and also relocated some light-assembly operations. Crews also added a mezzanine to house electrical panels, and the line now sits snuggly in Bayloff's main press area.

Line production includes flow work to reduce capacity issues on other presses, including stamping of high-strength stainless-steel muffler components that require complex double draws. When performing transfer work, the press runs at speeds to 15 strokes/min., and should increase as the company gains experience with the new technology.

With that experience, Chris sees benefits in the stainless-steel muffler-component markets.

"Stainless is difficult to draw," he says, "and production using the servo-press line with its drawing capabilities positions us to be more aggressive in those markets." MF

See also: Nidec Press & Automation

Technologies: Pressroom Automation, Stamping Presses