Sensor-Applications Excellence on Display in Louisville
August 1, 2008
Within the world of modern error-proofed metalforming, one of the finest examples of superb progress is the nth/works company in Louisville, KY. Its roots go back to 1946 when it was founded as Precision Tool & Die. It quickly moved from being solely a tool and die shop, adding contract stamping to its manufacturing portfolio. As it financially restructured itself and became an employee stock ownership plan (ESOP) company, its name was changed to nth/works.
Nth/works operates two facilities in Louisville with presses ranging from 75 to 1100 tons running progressive, manual and mechanical transfer dies. Its value-added capabilities include two high-volume powdercoating lines for decorative parts and the application of graphics to painted and stainless parts. It serves several types of customer sectors including appliance, automotive, HVAC and lawn and garden.
The sensor program at nth/ works has been in place for a little more than a year. In this short time, the intensity of the dedication by all levels of management to the program has been among the finest I have ever seen. An example of this is in its appointment of two fulltime sensor application specialists, Jason Chanda and Steve Wedding, both journeyman toolmakers. Jason launched the sensor program and in short order was assigned an assistant, Steve. With the aid of the toolroom and its toolmakers, both Jason and Steve are faced with the challenges of retrofitting hundreds of their existing dies with the appropriate electronic sensors. In addition, the two of them carefully review all new tooling in order to make sure that the needed modifications are made to properly house the sensors.
When dealing with existing tooling where time and/or budgetary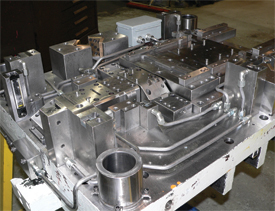 Fig. 1


constraints prohibit the disassembly of the die for the machining of channels for the sensor cabling, Jason and Steve use thick-walled hydraulic tubing to route the sensor wires to the junction box. In Fig. 1, such an approach is clearly visible. Note the detail and attention given to the symmetrical routing of the hydraulic tubing. This 28-station progressive die runs at more than 100 strokes/min. with a 0.040-in.-thick galvanized steel strip. This die has 10 sensors, including a short-feed inductive proximity sensor with a mechanical trigger; a light curtain part-out sensor to detect randomly positioned air-ejected parts; four inductive proximity sensors for shut-height verification to protect the die and press from incorrectly adjusted shut-height settings; and four inductive proximity stripper-level sensors to detect slugs in the die.

Whenever possible, the favorite approach by Jason and Steve, with respect to the routing of sensor cables and wiring, is the use of channels milled directly within the die plate and protected with carefully machined steel covers. In Fig. 2 this meticulous approach is clearly evident. This is a nine-station, two-out progressive die running at 60 strokes/min. The strip material is 0.030-in.-thick aluminum. Sixteen sensors are distributed throughout the die: Two diffuse reflective fiberoptic sensors to detect short feed/over feed with their two respective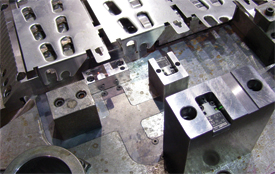 Fig. 2

beams patrolling the leading and trailing edges of a tab for its proper positioning at the end of the feed cycle. Two diffuse reflective red LED photoelectric sensors detect parts leaving the die. Four inductive proximity sensors verify shut height to protect the die and press from incorrectly adjusted shut-height settings, and eight inductive proximity stripper-level sensors for the two strippers detect slugs in the die.

Parallel with the sensor program, nth/works has put in place a technology-training program in the form of an inhouse university. Courses taught and under development in this program include the full gamut of technical shop-floor topics such as pressroom personnel, metallurgy, counterbalance controls, pilot-release timing, in-depth die and press functions, lubricants, etc. Thus the error-proofing capabilities of the sensor program will be partnered with fully trained and certified pressroom personnel.

Despite the challenges of the current national economy, nth/works refuses to allow short-term national economic pessimism to cloud its long-term plans. Its vision includes a full-court-press approach toward automation, employee technology training, error-proofing methodologies and higher value-added processes. How else can a metalforming company compete in today's environment of intensely high part-quality customer expectations within an atmosphere of lower costs? For those wishing to experience a dose of positive change and reinvigoration in our industry, I ask that you view nth/works as an example of such excellence. MF

See also: Precision Metal Works

Technologies: Sensing/Electronics/IOT