Transfer Optimization Yields Productivity Boosts
Die Cad Group initially employed T-Sim software on more complex transfer die designs, but now is expanding its application to transfer system designs, according to Rine.
"We feel that the software goes beyond detection of interference in the transfer process—also providing the opportunity to optimize the transfer process," he says. "We can run a design, whether ours or someone else's with all of the press and transfer data supplied through T-Sim to see how a metal former can improve output ( strokes/min.). We typically see output improvements of 15 to 20 percent, so the software not only provides capabilities on new tool builds, but on current transfer press production as well."
In such optimization applications, by plugging in customer press settings and other data such as transfer curves into T-Sim, Die Cad Group engineers look for ways to flatten curves and smooth out transfer motion.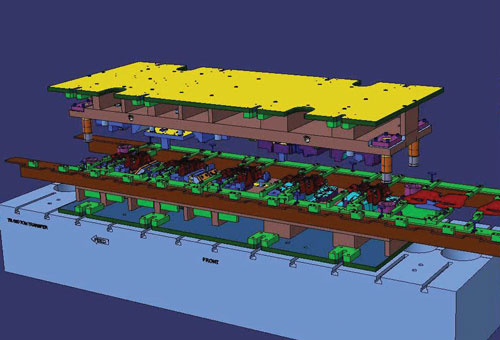 Determining how dies, parts, transfer mechanisms and the press interact provides opportunities to make part transfer more efficient. Changes to press settings and minor die modifications can deliver significant speed improvement.
"Sometimes we'll see a part shaking and rattling, and through the simulation process we are able to provide a solution with a more stable process that results in improved efficiency," says Rine. "By providing new settings that result in smooth, fluid motion, we enable our metal forming customers to achieve higher strokes/min., many times without doing anything with the tooling. From there, we can identify other fixes, such as moving a pin or grinding a chamfer, and show on a computer screen how these efforts gain even more strokes/min. Taking these solutions to the shop floor proves everything out."
Big Savings Over Production Lifetime
A 15 to 20-percent output improvement may mean only 2 strokes/min., but over the course of production and the lifetime of a job, such improvement can save thousands of dollars. Rine reports that some Tier One automotive suppliers have incorporated this type of transfer optimization into their standards, recognizing the ROI.
Die Cad Group and Rine provide numerous examples to prove the payback—in tool design and transfer optimization.
In one case, Rine offers, "a metal former contacted us to analyze a design provided by another company, asking us to run it through T-Sim. In doing so, we discovered a major issue involving the die castings, which would mean a total rework—very costly and time-consuming. T-Sim allowed us to point out the issue before the tooling was built."
In another, a customer forwarded Die Cad Group a transfer job quoted at 14 strokes/min. but only running at 11.
"If we could just increase output to the quoted level, the customer would be happy," Rine recalls. "After an initial run through T-Sim, we found that just changing some press settings would deliver 16 strokes/min., resulting in a 31-percent improvement. We performed another run and suggested a few tool changes—nothing major—to bring output to 19 strokes/min. This part run totals about 100,000/yr., so over a 6-yr. program, savings reach hundreds of thousands of dollars. And again, results on the floor prove out these simulations.
"It sounds like a no-brainer," Rine continues, "but for metal formers to achieve such savings, they must slow down enough to examine the problem, and provide accurate press, tool and transfer system information. Given that, the software will perform successfully." MF

See also: Die Cad Group LLC, T-Sim Solutions, LLC
Technologies: Software