Accuracy on the Rise
"Flanging these parts manually used to require one dedicated machine operator working 25 to 30 hr./week, performing a two-step process," Pederson explains. "Now that we've automated the process and spared that operator the challenging ergonomic conditions, we've also noted dramatically improved part quality, dimensional accuracy and repeatability."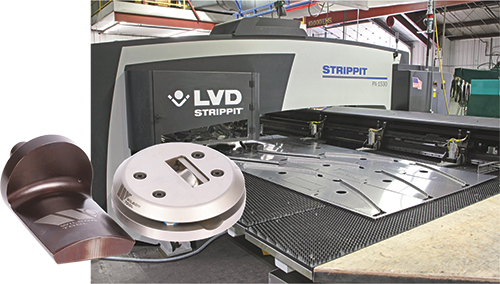 To automate the forming operation performed on the bulkheads, the plant invested in a new Strippit PX punching machine from LVD. The blanks (shown here still in the sheetmetal nest) are flanged in the press using a custom Wilson Tool Opti-Bend upforming tool (inset).
Pederson says that bend-angle tolerances now are ±1.5 deg., improved considerably from as much as a 3-deg. variance before. The shop uses two sets of the custom Opti-Bend tooling for flanging—one to form a 77-deg. angle, the other to set a 90-deg. flange.
"Flange height also is more consistently held as well," Pederson adds. "Dimensional tolerances are now within ±0.010 in., compared to as much as 1⁄16 in. before. The improved accuracy and repeatability of the bend angle and flange height improves fitup in the boat when the technicians go to rivet them in place, and also results in a flatter, more level floor."
Laser on the Way
In one week's time, the Strippit PX press turns out 2000 of the structural supports, in a variety of sizes and shapes to fit the contour of the boats—about 600 different part numbers in all. When we spoke with Pederson, the press, in addition to flanging the parts, also was being used to nibble the part peripheries. The master plan is to use a new 8000-W fiber-laser cutting machine, an LVD model expected to hit the shop floor early in 2018, to cut the blanks.
"That will free up some time on the punching machine," says Pederson, "which is at near-capacity right now."
MF
Industry-Related Terms:
Die
,
Flange
,
Form
,
Forming
,
Model
,
Nominal
,
Punch Press
,
Annealed
,
Bending
,
Cam
,
Corrosion Resistance
,
Tapping
,
Stroke
,
Shearing
View Glossary of Metalforming Terms
See also: LVD North America, Impax Tooling Solutions, A Div. of Wilson Tool International, Humantech
Technologies: CNC Punching, Fabrication