Combilift Moves Innovation Forward...and in Other Directions
June 1, 2018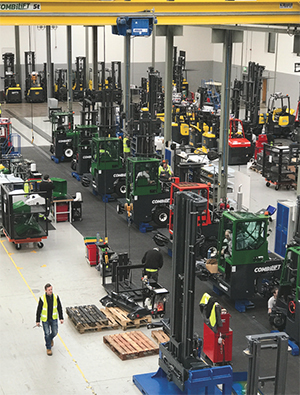 Combilift, the Ireland-based manufacturer of customized materials-handling solutions, officially opened its 500,000-sq-ft., $48-million eco-friendly factory in Annahagh, Monaghan. Established by Martin McVicar, managing director, and Robert Moffett, technical director, the privately held company developed its first multidirectional all-wheel drive, IC-engine-powered forklift in 1998. In its first year of operation, Combilift produced 18 units, 17 of which were exported. The company now has more than 40,000 units in operation in 85 countries, with 12,000 units in the United States and Canada. To stay ahead, Combilift spends 7 percent of its yearly revenue on research and development.
Speaking during the Combilift facility's opening, McVicar said the company projects 30-percent growth for North America this year, attributing the company's success to mass customization. "Forklift producers that offer customized products generally produce low volume," explained McVicar, 'but Combilift is offering the mass production of tailored products, resulting in a strategic advantage for our customers."
Set on a 100-acre site with room for expansion, the factory's eco-friendly features include skylights accounting for about 30 percent of the 11 acres of roof, lighting provided through 1100 LED lights with individual passive infrared sensors; solar panels supplying 185 Kw of energy, with a biomass plant fueled by recycled wood (pallets, etc,) to heat the spraying booth and assembly areas; and harvested rain water used throughout the facility.
See also: Combilift Ltd.
Technologies: Pressroom Automation