AutoForm Assembly R10 Helps Optimize BiW Assembly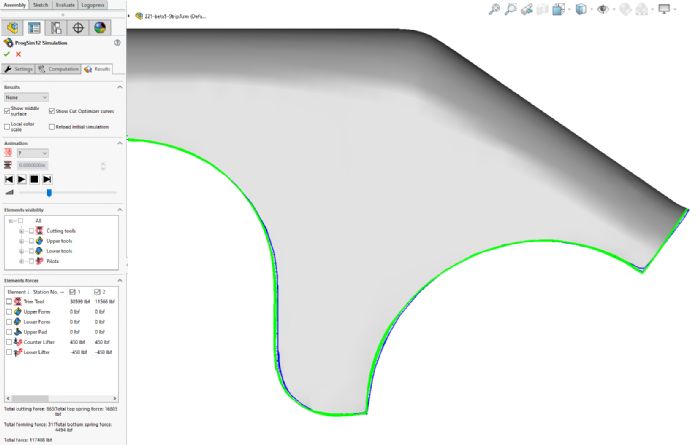 New from AutoForm is AutoForm Assembly R10, loaded with features and enhancements that enable users to evolve their body-in-white (BiW) assembly-process development. With AutoForm Assembly R10, users can optimize the assembly process and ensure the desired level of quality very early in the assembly process, say company officials, prior to the start of production, ensuring dimensional accuracy of the entire BiW.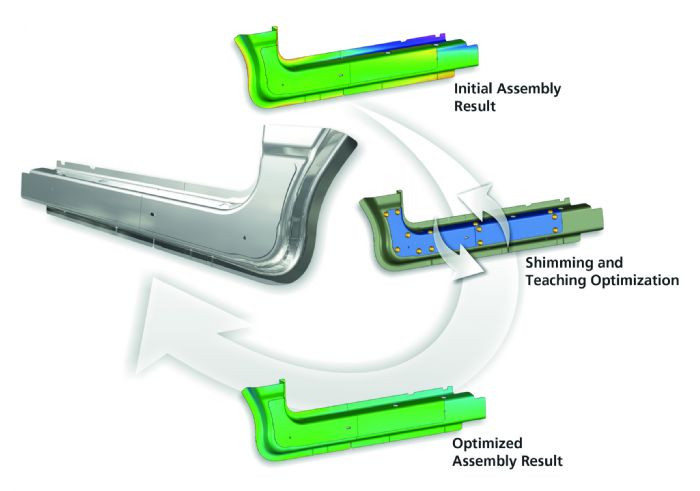 AutoForm Assembly R10 allows for the evaluation of the assembly process from early feasibility through to production support, including process engineering and initial tryout support. Users can import nominal CAD geometry in a range of formats, assign all single parts a suitable material selected from an extensive material database, and define a range of alternative assembly processes. They also can simulate a hemming process to better understand issues that may arise as well as the effects that these issues would have on the quality of the BiW assembly.
In practice, assembly equipment is adjusted continually in order to resolve dimensional deviations and their effects on production. With AutoForm Assembly R10, engineers can make these process adjustments virtually, allowing them to define which clamps and joints should be considered for shimming and teaching. By running multiple simulations, the software enables users to determine the optimal parameters that can be applied to resolve accuracy issues. When a solution is found, the settings can be mirrored in the physical process, eliminating the traditional and costly trial-and-error approach. The software also enables users to define and evaluate a range of joining methods, employ plane and fillet welds, and define locations for glue.
Altair's Inspire Form Features New Feasibility Module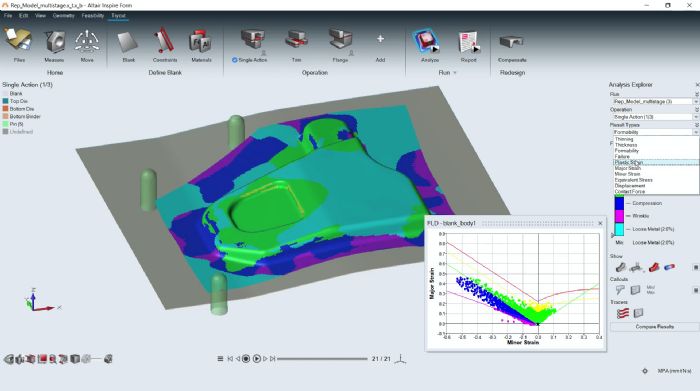 The most recent releases of Altair's Inspire Form (a new release is planned for late-spring 2023) include a new feasibility module, enabling users to analyze parts in seconds to predict formability early in the product-development cycle. Automated blank nesting proposes an efficient layout of the flattened blank on the sheet to maximize material utilization. And, blank nesting now includes the ability to constrain blank orientation to user-specified rotation and angle, and allows for fixed coil widths as well as multiple layups for laser-cut blank nesting.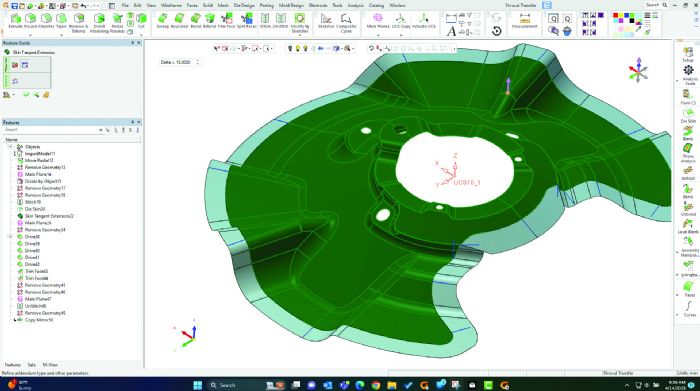 The tryout module includes a highly scalable incremental solver, helping users to iterate and simulate multistage forming, trimming and springback. In addition, geometry manipulation has been enhanced, company officials say, adding the ability to extend surfaces and open linear bends as well as flange surfaces on user-defined reference surfaces.
The latest release also provides support for new processes: sheet hydroforming, flex forming and hydro-mechanical deep drawing. In addition, visualization of results has been enhanced to now include percent-thinning for multilayer solids, as well as a new edge-displacement results.
Lastly, Altair recently introduced HyperWorks Design Explorer, a new artificial-intelligence-powered tool that enables users to explore, understand and improve their stamping system's end-to-end workflow. Users of Design Explorer can make better decisions and optimize the performance, reliability and robustness of their systems, say company officials.
Cimatron Adds Functionality for Die-Addendum Surfacing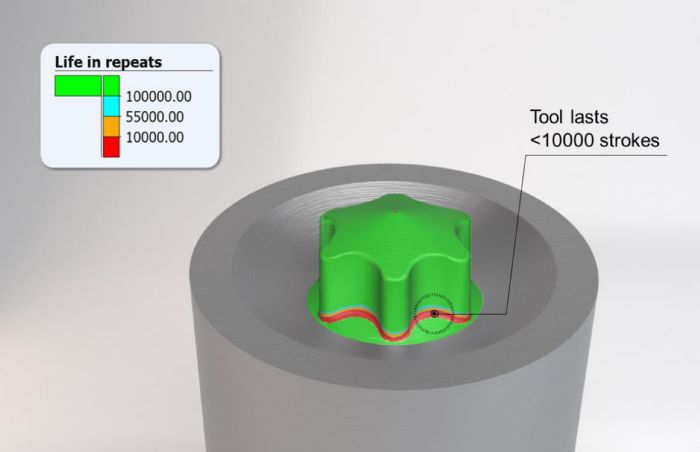 Cimatron recently released V16 of its die and mold CAD-CAM design software, touting new features for toolmakers including improved functionality for die-addendum surfaces, mesh manipulation and drafting detailing. User efficiency continues to be a focus, company officials say, with the process workflow having been improved in several areas including batch printing with support for shaded views, dynamic triad dragging, expanded bill-of-materials support for assembly structures, and extended preferences control with the ability to search and reset.
Major CAM developments support NC automation. Three-axis rough and volume pocketing supports the automatic selection of multiple cutters of different lengths for the optimum cutting sequence by splitting the toolpath into multiple operations based on cutting length. This efficiency feature for rough parallel, rough spiral and volume pocket reportedly results in better tool selection, reduced tool vibration, extended tool life and faster cutting speeds.
VoluMill pocketing now can be applied to multiple open and closed pockets of differing heights and depths as a one-step routine and single NC operation. Other 2.5-axis operations include a new capability in the slotting procedure that uses predrilled holes for safe material entry and to quicken machining with optimum toolpath movement at each level. Further efficiency gains can be achieved with multiaxis drilling routines that consider the real stock model instead of the geometry bounding box. This creates a starting point closer to the stock for a safer, faster machining cycle, the company says.
Five-axis deburring has been extended to support extra cutter types including end mill, sphere mill, lollipop mill, taper mill and chamfer mill. Importantly, a new multiple-cuts feature enables the user to create more than one cut along a sharp edge to generate a chamfer or fillet shape either by constant width or by constant depth for a chamfer, or by constant width or constant radius for a fillet.
New Hexagon Module for Die-Life Analysis
New to Simufact Forming, Hexagon's volume-element based metal forming-process simulation software, is a Die Life Analysis module that provides users with fully integrated tool-life prediction capability. No expert knowledge is needed to perform tool-life analysis and optimization, say company officials. It enables users to evaluate their tool designs for durability and longevity by predicting the stress and strain levels on the tooling components and identifying any weak areas on the forms, punches, etc. This allows for the accurate identification of failure locations and for prediction of the expected life of a tooling component. Users then can identify potential weak or problematic areas within the tool design, evaluate different tool steels, and plan for preventive maintenance, ultimately minimizing production downtime. MF
Industry-Related Terms:
Arcs
,
Blank
,
CAD
,
Cam
,
Core
,
Die
,
Drawing
,
Edge
,
Flange
,
Form
,
Forming
,
Functionality
,
Lines
,
Material Utilization
,
Mesh
,
Model
,
NC
,
Nesting
,
Nominal
,
Point
,
Run
,
Solids
,
Wrinkling
View Glossary of Metalforming Terms
See also: Hexagon Manufacturing Intelligence, Altair Engineering, Inc., Accurate Die Design Software, Inc., LOGOPRESS, AutoForm Engineering USA, Inc.
Technologies: Software