In fact, prior to bringing in the larger prog-die press, PSG had quoted a new program for a customer that included tools larger than the 144-in. press could handle. "When we won that job, for body-in-white underbody parts," recalls Abt, "we had to buy the bigger press. Shortly thereafter, we were awarded transfer work for the same platform that pushed us to invest in a larger transfer press as well."
That transfer press, a 2500-ton eccentric-drive Eagle with 240 by 96-in. bed and 30-in. stroke, hit the production floor in May 2020. It's outfitted with a Linear Transfer 600-lb.-capacity (part and tooling) transfer system and destacker. Like I said, the big three—bed size, tonnage and automation. Dual rolling bolsters accommodate quick die changes.
As noted, PSG operates out of three facilities. One facility, 40,000 sq. ft., houses four 1000-ton and four 800-ton Danly presses, and a 300-ton blanking line with 72-in. feed line; a second production facility, 87,000 sq. ft., houses 38 presses, from 50 ton all the way up to the two new Eagle models; and a third plant functions as a service facility.
Automated Transfer a Competitive Advantage
"Before we brought in the big transfer press," says Abt, "we formed larger, heavier parts through a hand-transfer line of 1000-ton presses with 132 by 84-in. beds. Now we can make these parts under one ram, and with the required tonnage and press automation that creates a significant competitive advantage."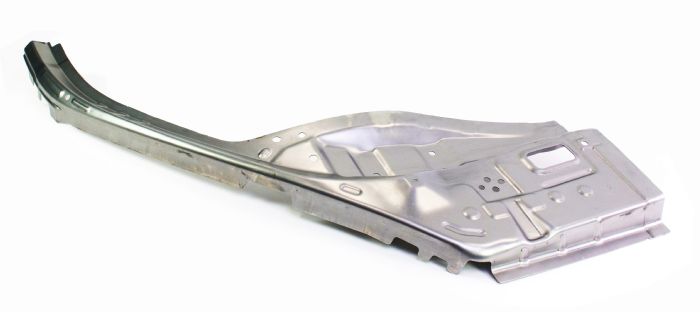 In addition, the transfer system quickly can be parked out of the way for die changes. It offers an 84-in. pitch, 36-in. clamp axis, and 24 in. of lift. Included are motion profiles for 2D, 3D, crossbar and pick-and-place motion, as well as recipe-optimization software built into the HMI.
When PSG commissioned the transfer press, it already had 12 new dies queued up; no existing tools were moved to the press. It's rated by Eagle for a maximum stroke rate of 22 strokes/min.; Ladouceur and his production team have it running to 20 strokes/min.
For the blank feeder, integrated to the transfer automation, PSG went with a unit capable of handling blanks from 6 by 20 in. to as large as 48 by 84 in., and a maximum stack height of 24 in. And, it can feed double unattached blanks as well, in parallel or in series and with a minimum distance between blanks of 8 in.
"With the ability to manage two separate blanks simultaneously through the press," says Ladouceur, "we've been able to take a job that would have run one blank at 22 strokes/min. and instead stamp two blanks at 15 strokes/min., the equivalent of running at 30 strokes/min."
A perfect example of bed size, tonnage and automation working together.
Feed Lines Fortified for AHSS
Delivering coil stock—much of it AHSS with yield strength from 440 to 980 MPa, to the 1200-ton prog-die press—falls on the shoulders of the 72-in. feed line with nine-roll straightener, from Colt Automation, fortified for working these high-strength alloys. The line can handle full-width 980-MPa material to 0.125 in. thick, says Stuart Cordrey, vice president of sales at Colt.
"The straightener is the heart of the operation," says Cordrey, "and for these applications we're using aviation-grade Type 52100 high-chromium high-carbon steel for the rolls that provides excellent strength and fatigue properties. We machine a generous radius into the rolls to minimize fatigue or tendency to crack. And, we increase the size of the side plates as well, using 2.5-in. plate compared to 1.75-in.-thick plate used for a more conventional straightener. The roll journals coming through the side plates measure 3-in. dia., and we engineered a triple-backup roll assembly for each of the upper and lower straightener rolls.
"AHSS applications also call for beefier gears," Cordrey continues, "including gear faces 3.5 to 4.0 in. wide, compared to the more typical 2.5 to 3.0 in., also machined from aviation-grade steel. We're able to specify a TIR (total indicated runoff) of 0.0001 in. (the measure of flatness per 1 ft. of material), which helps ensure that the material will run as needed in the die."
Similar technology resides with several 48-in. coil lines feeding material to other progressive-die presses at PSG. These units can feed and straighten 980-MPa steel full width as thick as 0.080 in., and 275-MPa steel full width to 0.15 in. thick.
"The straighteners employ a unique counterbalance pinch-roll design feature," Cordrey adds, "allowing for a pressure adjustment to the pinch rolls to make them essentially weightless. Because a 72-in.-wide by 6-in.-dia roll can weigh 1500 lb. or more, without this design the rolls could damage very thin sheet; the counterweight design allows tampers to run material as thin as 0.015 in. without any problems." MF
Industry-Related Terms:
Alloys
,
Bar Coding
,
Bed
,
Blank
,
Blanking
,
Die
,
Fixture
,
Gas Metal Arc Welding GMAW
,
Lines
,
Plate
,
Ram
,
Run
,
Stroke
,
Transfer
View Glossary of Metalforming Terms
See also: Colt Automation Ltd., Eagle Press & Equipment Co. Ltd., Linear Transfer Automation Inc.
Technologies: Stamping Presses, Coil and Sheet Handling, Materials