Expertise in Medium-, High-Volume Metal Injection Molding
October 2, 2019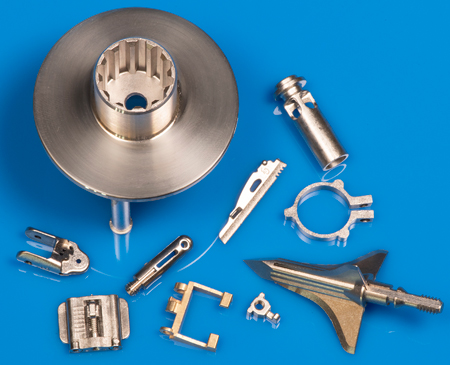 Smith Metal Products
Booth A3573
Smith Metal Products offers expertise in molding complex metal parts in medium to high volumes, with the company's sales engineers explaining the benefits of its metal injection molding (MIM) processes that include stainless steel, steel, titanium and most ferrous materials. See the company's parts on display.
MIM achieves medium to complex metal parts quickly while eliminating extensive machining. MIM and titanium MIM parts typically weigh less than 100 grams and measure to 3 in. long and to 0.25 in. thick. Ideal product categories for MIM parts include firearms, defense, medical, dental, orthodontics, computer, aerospace, automotive, appliance and recreation. Smith also offers a hybrid option: MIM parts with a few features inhouse finish machined to meet tighter tolerances. Parts suitable for MIM processing include those with annual volumes from 10,000 to several million pieces.
Smith Metals' high-capacity facilities include the latest electric molding machines, continuous and batch debind and sintering furnaces, five-axis CNC machining and grinding centers, ceramic kilns, and more. The company also offers a network of value-added services including plating, laser etching and engraving, heat and hot isostatic pressing treatment, surface finishing and polishing, assembly, final pack out, and custom automation.
Recently, Smith Metals added 3D metal printing to its portfolio to support customer R&D and to provide a production bridge to higher-volume MIM parts.

See also: TAB Industries LLC
Technologies: Materials